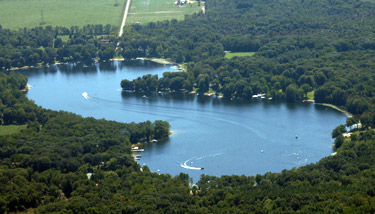 Lake Mill is spring-fed with input from local runoff and one outlet that eventually connects to the Black River. There are approximately 118 property owners surrounding the lake, with a mix of seasonal and year-round residents. History of the lake (pdf)
Lake Facts:
Lake Surface Area: 104 Acres
Maximum Depth: 63 Feet
Mean Depth: 19.1 Feet
Lake Volume: 1,983 Acre-Feet
Shoreline Length: 2.2 Miles
Shoreline Development Factor: 1.5
Lake Elevation: 761 Feet
Watershed Area: 852 Acres
Ratio of Lake Area to Watershed Area: 1:8.5
Lake Study
Weed Control
Water Quality
Study findings indicate that Mill Lake is mesotrophic in that phosphorus levels are low, bottom water oxygen is low, and chlorophyll-a and transparency is moderate.

Currently, the overall water quality of Mill Lake is good. However, in order to protect the lake over the long term, it is recommended that the management plan for Mill Lake include several elements.
Annual surveys of Mill Lake should be conducted to determine the type and distribution of aquatic plants, with particular attention paid to invasive non-native species.

The current aquatic plant control program should continue to focus on non-native plants and only those native plants growing at nuisance densities.
Water quality monitoring of Mill Lake should be continued in order to gauge the overall health of the lake. Monitoring should consist of annual E. coli measurements.

Every fifth year in spring and late summer, Mill Lake should be sampled from top to bottom at the deepest point for temperature, dissolved oxygen, total phosphorus, chlorophyll-a, and Secchi transparency.